---
Sign in.
App espía para Android rastrea GPS, Fotos,audio, contactos, mensajes Funciona
Hidden fields. Top charts. New releases.
Add to Wishlist. Spyware runs in the background, silently stealing all your information. While you might not be a celebrity yet , you MAY have people in your life who want to cause you harm or embarrassment. They can monitor your calls.
Read your text messages. Snag your photos and videos.
How to use it. Install. Install the application on the phone that you want to monitor. You can install the application for free and you will have a free trial. GPS will. Our seven day trial download allows you to fully use software for free before purchasing. 2. Install Mobile Spy to your phone and launch the program. 3.
Determine your exact location at all times. You can keep a record of all the incoming and outgoing calls via the tracked cell phone. There are many more things that you can do in respect of calls. You will also be allowed to record these calls, and you can listen to them anytime afterward.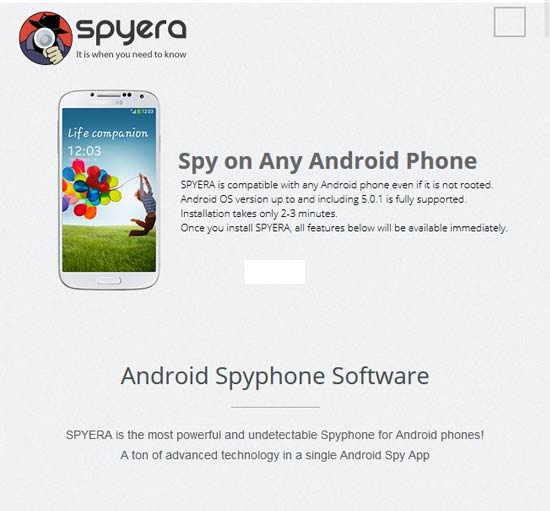 With the help of the FreePhoneSpy you will be able to view all the multimedia files that are stored in the hacked device. These multimedia files include photos, videos, and other files. The FreePhoneSpy work in the background and therefore is totally undetectable.
Phone spyware, Spy phone. - De Parel Haarlem
The targeted user will never come to know about its existence on their mobile phone, and you can do the tracking work without any fear. There are many mobile spy app available in the play store but get the most suitable one offering you all the features you need like the GPS tracking, spying text, call logs, etc. Mostly all the features you are looking for is present in the FreePhoneSpy app. Secondly, while getting FREE mobile spy app, you must look that whether the application is compatible with the devices you using or not.
The application you choose must be working on the smartphones, mobiles, etc. Try It Now. Live Demo. So how does Free Phone Spy works?
Spy Phone App
We will tell you about the spying app FreePhoneSpy and tell you the advantages you can get by using this app. See how it works. Online Control Panel. View all feature. Why you need FreePhoneSpy for spying cell phone. Parental care and control. These dangers can harm them for the whole life.
gps free cell phone tracker, facebook tracker
There are many businesses saved with installation of CatWatchful tracker on the company-owned devices. Your employees will have better productivity with least chances of any distrustful activities. You can remain business for longer time, and CatWatchful mobile monitoring software can enable you to know if any secret information of the company is being shared by someone. You can know the activities of your employees and get better outputs from them with the use of this app. You can even let them know the non-permissible entities. The work can be monitored even by being away from the office through remote Control Panel provided by CatWatchful tracker app.
You can even do hidden monitoring through these software applications and it can keep you informed about your kids or employees in the most relevant manner. CatWatchful is the most efficient software on anyone and keep your mind free from all the worries. Log into the website and get to know more about features of this top-rated software. The violation of this requirement could result in severe monetary and criminal penalties imposed on the violator.
That's not us. Monitor up to three devices. Check logs anytime. In their latest update you can track sent whatsapp messages without root. Retina-X apologizes to our customers for any inconvenience this situation has caused, but our first priority is to you.
You should consult your own legal advisor with respect to legality of using the Licensed Software in the manner you intend to use it prior to downloading, installing, and using it. You take full responsibility for determining that you have the right to monitor the device on which the Licensed Software is installed. CatWatchful cannot be held responsible if a User chooses to monitor a device the User does not have the right to monitor; nor can CatWatchful provide legal advice regarding the use of the Licensed Software.
Phone tracker application Many of us have found ourselves at least once in our live in the situation of wanting or needi Android Spy Techniques We are so used to wake up, turn our cellphone on, and use it several times throughout the day. Spy phone app The integrity of our online data has been an increasingly hot topic as cases of companies selling dat Spy on phone app: Only the best app offers the best way to do it: Catwatchful Monitoring social media at work.
Because the entr Reasons to track phone First of all, it Camera spy is one of the best features a smartphone can have.
Web Account
Your first option of android spy Simple: An app easy to i Reasons to use a spy tracker app For Spy Android Phone Remotely is one of the wishes of a parent to keep their children safe or someone monitoring his compan Call recorder app: Someday we think in installing one. The principal re Thank god it has more benefits than ways to All calls Record surrounding at any moment With Record surrounding feature you can protect your childre, listen to everything tha The Internet opens a lot of new possibilities for kids.
Nowadays there is no need to pore over books for hours and spend Cyberbullying is the ordinary bulling which takes place over modern gadgets phones, tablets, computers. It occurs thro Are you a parent of a teen who is constantly texting on the phone? If you are, then this article is for you. Smartphones are highly advanced types of mobile devices that are capable of so many things, which is also the reason why CatWatchful Mobile is one of the best parental control software in the United States.
Having experience in the market, t Common Apps Teenagers Use for Cyberbullying Teens are always on their phone, chatting away with friends in cyberspace u If you have a blog, youtube channel or have ideas that can attract visitors to CatWatchful.
Spy Phone App!
moble phone spy app!
Spy On Any Android Phone & iPhone.
girlfriend tracker app.
Spy On Any Android Phone & iPhone.
Do you want start your own business? You can start selling subscriptions and start making money quickly and safely. Keep your children guarded 24 hours a day. The first parental control app with real time functions.